Why Use Sunrise Soaps?
Sunrise Soaps are a skin-healthy alternative to many of the harsh soaps found on store shelves. They are made in small batches, contain high quality oils (which are extremely beneficial to the skin providing moisture) and produce a wonderful lather. I use pure vegetable, coconut and olive oils, shea butter, cocoa butter, & castor oil. Sunrise Soap Company offers a wide and sometimes wild selection of fragrances to please everyone. If your skin feels dry and tight after showering, if store-bought soaps are harsh to your face and body – I invite you to sample this affordable pleasure and FEED YOUR SKIN. It will thank you.
ALL OF OUR SOAPS ARE VEGAN and GLUTEN FREE unless specified otherwise.
SOME COLD HARD FACTS:
THE AVERAGE WOMAN USES 12 PERSONAL CARE PRODUCTS A DAY, EXPOSING HERSELF TO A TOTAL OF 168 CHEMICALS.
YOUR SKIN IS THE LARGEST ORGAN OF YOUR BODY. How are YOU treating it?
Skin has the incredible ability to absorb substances, good and bad. When you use chemical based products for skin care, not only are the chemicals absorbed by your skin, but you actually can damage the structure of your skin with these harmful types of products.
FROM SCRATCH I CREATE ALL OF MY OWN PRODUCTS WITH A HIGHER GOAL IN MIND THAN USING CHEAP JUNKY CHEMICALS AND INGREDIENTS — I USE ABSOLUTELY NO PETROLEUM BASED CHEMICAL INGREDIENTS, NO PRESERVATIVES!
FEEL THAT NICE LATHER WHEN YOU USE YOUR BOTTLED SHAMPOO IN THE MORNING? CHEMICALS AT WORK!
MY SOLID SHAMPOO BAR IS A HEALTHY & NATURAL ALTERNATIVE TO CHEMICAL RIDDEN SHAMPOOS. GO CHECK YOUR SHAMPOO INGREDIENTS LADIES AND GENTS, IT'S A CHEMICAL BONANZA.
MY HERBAL DEODORANT HAS SIMPLE ALL NATURAL INGREDIENTS. EVEN THE SO-CALLED "NATURAL" DEODORANTS AT HEALTHFOOD STORES HAVE A SYNTHETIC PRESERVATIVE AS THEIR FIRST INGREDIENT — I DON'T!!! NOW GO LOOK AT YOUR DEODORANT AND SEE WHAT'S IN IT — ALL KINDS OF WONDERFUL CHEMICALS LIKE ALUMINUM & SO MUCH MORE!
LAST BUT NOT LEAST, IF YOU'RE ITCHING YOURSELF RAW, MY SOAPS CONTAIN NO CHEMICALS & NO PRESERVATIVES LIKE STORE BOUGHT SOAPS AND I USE TONS OF HIGH QUALITY OILS AND BUTTERS. ONCE YOU TRY MY SOAPS YOU WON'T USE ANYTHING ELSE!
As always, call or email me with any questions!

SPECIAL ORDER SOAPS FOR ANY OCCASION!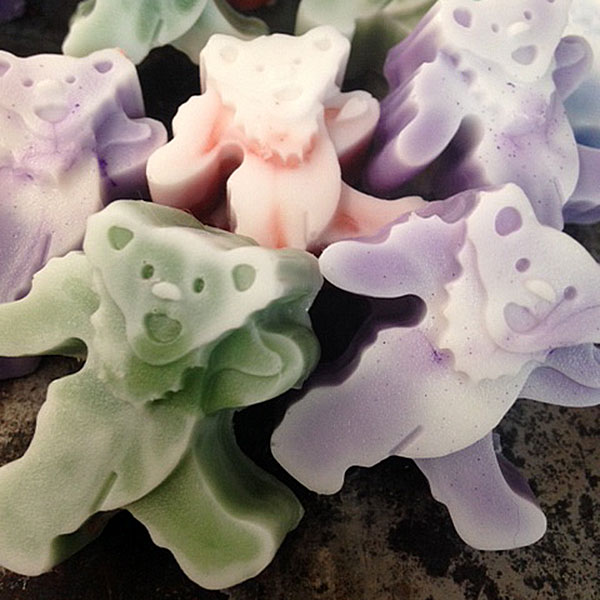 Let SUNRISE SOAP COMPANY create your next special occasion gift for:
baby showers
wedding favors
bridal showers
corporate logos
birthdays
anniversaries, and more.
I DO PERSONALIZED LABELS FREE!! Gift Certificates and Gift Baskets are always available & a great gift idea too!