YOU'VE TRIED THE REST, 
NOW TRY THE BEST!
DITCH THE ITCH! SUNRISE SOAP COMPANY offers a skin-healthy alternative to many of the harsh soaps found on store shelves. Sunrise soaps are made in small batches, contain high quality oils (which are extremely beneficial to the skin, providing moisture) and produce a wonderful lather. I use pure vegetable, coconut and olive oils, shea butter, cocoa butter, castor oil. Offering a wide – and sometimes wild – selection of fragrances to please everyone. If your skin feels dry and tight after showering, if store-bought soaps are harsh to your face and body, I invite you to sample this affordable pleasure and FEED YOUR SKIN. It will thank you! Be sure to drop in for a visit soon. YOU NEVER KNOW WHAT'S ON THE HORIZON…
VISIT ANY OF OUR
3 LOCATIONS
DOWNTOWN YORK
29 N Beaver Street • York PA
(717) 843-SOAP
HOURS
MON-THU 9am – 5pm
FRI & SAT 9am – 6pm
SUN 10am – 5pm
Call for extended hours.
GETTYSBURG
7 Chambersburg Street • Gettysburg PA
(717) 337-WASH
HOURS
THU 11am – 6pm
FRI & SAT 10am – 8pm
SUN 11am – 6pm
COMING SOON TO THE PARK CITY MALL IN LANCASTER, PA
DROP IN AND
CREATE YOUR OWN FUN!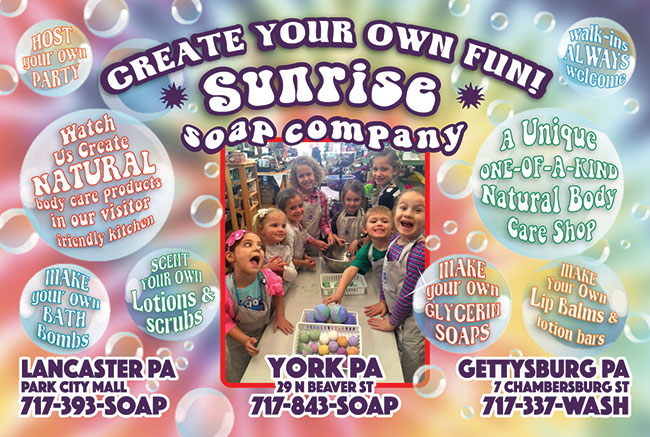 WATCH
SUNRISE SOAP COMPANY
CLIPS